Did you see this on any of your item pages?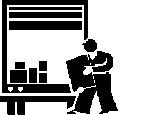 Special Handling or Oversized Package

If you did you must select common carrier freight when checking out.
Your shopping basket is currently empty.

---
Tropic Heating / Patioheat.com is committed to your Online Purchasing Security!
All of our pages requesting your personal information are hosted on secure web servers. Your credit card purchases are redirected through the payment gateway of VeriSign (All information sent to this site, if in an SSL session, is encrypted, protecting against disclosure to third parties).
Credit Card purchases can be made using your, American Express, Master Card, Visa or Discover Card.